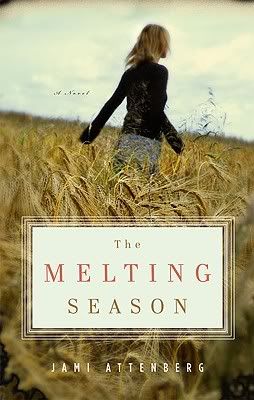 So, I had a cool/rare lit experience yesterday.

After a Saturday night spent at a warehouse party in Bushwick (I know what you're thinking, and yes, it was damn hot), I woke up on Sunday, blearily made some eggs, collapsed on my couch and read a book straight through. I honestly can't remember the last time I've done this. Reading in NY tends to be done in short spurts—subway rides, waiting in line, before bed. But this time I basically spent the whole day reading, getting up only to graze on the meager amount of food in my fridge.

The book was Jami Attenberg's The Melting Season, which is one of those stories that quietly sucks you in (chapter 1, chapter 2…shit I'm halfway through the book!). It follows a girl from Nebraska who steals her rich farmer husband's money and drives to Las Vegas. There she meets a sequin-wearing cancer survivor, hangs out with celebrity impersonators and finally comes to terms with the disturbing cause of her sexual probs with the hubby.

Post-reading, while washing dishes, I thought about the first time I'd heard Jami read—which had actually been my first book reading in New York, years before. We have a friend in common, and I went seriously prepared to introduce myself. Instead, I ended up cornering her between shelves (seriously, she was wearing a cast, so she couldn't have even run away) and having what I thought was pretty much the most awkward convo in the history of man. Later I sent her a FB message apologizing for the awkwardness (making it MORE awkward, of course) and she not only replied, but Friended me. Though still residually humiliated, I was also thrilled. Here, this Real Author had asked me to be her (electronic) friend!

I went to a second reading of Jami's months later (for an event the mutual friend was throwing), and here too she read a passage from The Melting Season. This time I didn't feel a need to chat, feeling strangely aquainted through her hilar FB postings, tweets and blog. (She recently got an adorbs dog, for all who don't know.)

Anyhow, I thought it was interesting that even after knowing about Jami, I still experienced her book as if I'd just randomly picked it up from a bookstore table. People have told me that knowing too much about an author affects how you read their work, but, as I mentioned in my Carmela Ciaruru post, the quality of the work really decides if that's gonna happen.

I also kinda like the idea of having long-term, one-sided friendships with authors through their books and public appearances (and Interweb musings, if we're lucky). Perhaps this is why I felt so outraged on behalf of my beloved Jeffrey Eugenides for getting punched on a NJ train. (Plus, come on, NJ. Get it together.)

Alright, quickly moving along to my lit picks for the week.

MON: Jesse Ball at McNally Jackson

TUES: John Burham Schwartz at BookCourt

WED: Darin Strauss at Greenlight

THURS: Jane Borden at Madison Square Garden

FRI: I'm finding nothing! Can this be true??

Alright, heading off to see Jesse Ball! Hope everyone has a delightful week.