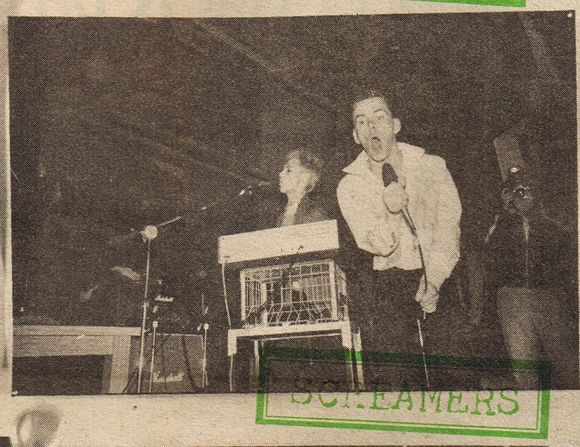 For the first time in Vol. 1 history, a  "Greatest 3-Minute" topic was revisited by popular demand. I don't pretend to have a lot of punk cred, but my cooler friend was totally thrilled to see Molly Neuman from Bratmobile on the ticket. At Housing Works last Thursday night, we heard some amazing punk-related tales. Some of my faves, along with the full list, after the jump.


Alina Simone: Author and musician Alina related a story from her memoir You Must Go and Win in which she played for an intimidating record company exec. Afterward, he criticized her for trying to sound like PJ Harvey, since that route would not in any way promote his goal—a second house in the Hamptons.

Michael Fusco: Half of M + E/Michael Fusco Design (along with wife Emma Straub), Michael's had a long history of touring with various bands as the roadie or merch guy. He weaved together these tour experiences—first with Skavoovie (yes, a ska band), then My Pal Trigger, and finally the Magnetic Fields—with the hilarious thread of situations causing him to weep. (He prefaced his reading with, "This is the least punk-rock thing you'll hear tonight.")

Matt Elkin: Member of Brooklyn band The So So Glos, Matt explained that the night before he'd tried to write down the story of his band getting taken out by Britney Spears's guards in Detroit. But it just wasn't working, so instead he read an incredible letter his girlfriend had received from a BFF in junior high, explaining in a detailed eight-part criticism why their enemy Ellen was just the worst.

Ami Greko: Ami of Book Camp NYC told a spellbinding story (sans notes!) about how, as a 19-year-old college girl, she'd found herself dating a 28-year-old high school dropout/construction worker. The tale culminated in riding the world's highest roller coaster while high on coke (which surprisingly, turned out to be a pretty positive experience, despite her tearing her new nipple ring).

Molly Neuman: A member of one of the biggest riot grrrl groups, Bratmobile, Molly told a tale about traveling to a Nation of Ulysses show as a teen with her dad's car, and how a chance meeting with the girls behind Sassy ended up totally blowing her cover.

There were lots of other fun and unique tales from the list below, contributing to a great night. I'm already gearing up for round 3…

Ari Spool (Impose)
Michael Fusco (M+E Design)
Mishka Shubaly (Freshkills)
Syd Butler (Les Savy Fav/Frenchkiss Records/author of Who Farted Wrong?)
Maura Johnston (Village Voice)
Russ Marshalek (Silent Drape Runners/Flavorpill)
The Beets
Evan Smith Rakoff (Poets & Writers)
Jeanne Fury (Writer)
Ami Greko (Book Camp: NYC)
Jenn Pelly (Pitchfork)
Molly Neuman (Bratmobile)
Maria Sherman (Writer, WNYU DJ)
Alexis Fleisig (Obits)

Image via Vol. 1/Slash Magazine.