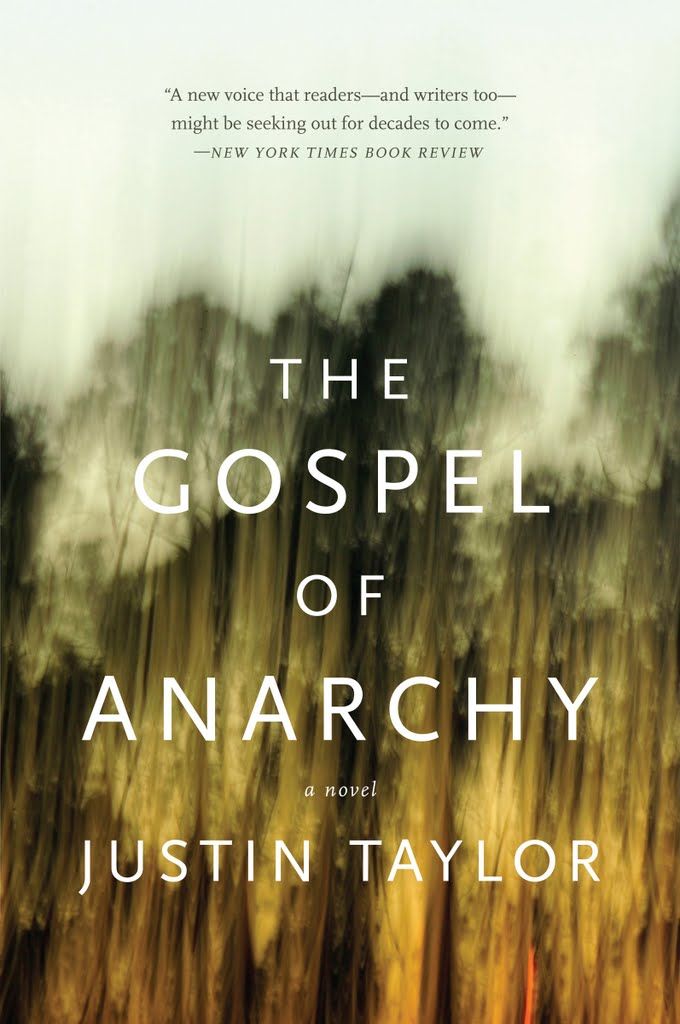 Justin Taylor is a literary Brooklyn staple, one whose variety of output has brought in a steady torrent of praise. He first edited The Apocalypse Reader, an anthology of stories about the end of the world that includes works by H.G. Wells, Joyce Carol Oates, and Neil Gaiman. His book of short stories, Everything Here is the Best Thing Ever, was a NYT editors' choice. And his debut novel, The Gospel of Anarchy—about a college dropout who falls in with a group of libertines—has been hailed as brilliant, bracing, and brutally funny. I saw Justin read at an event a few months ago, and I was struck by his relaxed confidence and by how caught up I got in his story. Justin kindly agreed to share some tales about his other reading-related experiences, which include a Bangor, ME jaunt with Gregory Howard, a paperback vs. hardback debacle, and an electrifying Wave Books poetry reading.
What's one of the most memorable readings you've given and why?
I went up to read at University of Maine at Orono in January and there was this huge overnight snowfall the last night I was there—so we're talking about after the reading itself, but still. I went to bed and it was clear, woke up and the whole world was white. I was supposed to meet with the writing graduate students that morning but they had to close the school. My flight got re-scheduled for later in the day, so my host, the great Gregory Howard, took me around town instead of leaving me to languish at the airport. It was great: I got to see Stephen King's house, which was a childhood dream come true, and picked up Chesterton's biography of Dickens in the used/new bookstore in downtown Bangor. then we went into Bangor where there's (weirdly?) a fantastic bagel place, half a block down from which there's this tiny storefront where Gregorian monks make baked goods. They had these enormous whoopie pies; I bought a half-dozen and brought them back to NYC.

Any particularly intriguing (or conversely, awkward) audience questions that have stuck with you?
When I was reading for my first book, Everything Here Is the Best Thing Ever, I gave a reading at McNally Jackson bookstore and Rachel Fershleiser—acting in her capacity, basically, as a ringer—asked me what should have been an easy question about how I felt about my book being a paperback original instead of a hardcover. "I feel great about it," would have sufficed, and also would have been the truth. Instead I decided to acknowledge that when writers imagine their books they imagine them as hardcovers (also true) so that there had been a kind of mental adjustment to be made, but that at the same time one must live in the world as it is rather than as we wish it were (once more: true) and that therefore I was glad to have a book brought to market in a way that gave it the best chance of success—then, by way of counter-example, I pointed out the big display of the then-new DeLillo novel, Point Omega, a twenty-five dollar hardcover book containing a short novel you could probably read start to finish in two hours, tops. I went on talking about this seeming incongruity, saying basically that even though I love DeLillo it'd be a cold day in hell before I paid that money for that book, while my editor, who was sitting next to me at the head of the room, slowly turned green as we both realized I was sitting here in this bookstore telling a room full of customers that the thing on the big front display was, in effect, a rip-off and they shouldn't buy it. I don't remember how I finally escaped from that answer, but it wasn't with anything like grace. Then, after the reading, one of the employees gave me a copy of the novel, thereby completing my humiliation—though of course that didn't stop me from accepting the gift. The book turned out to be signed. I read it a few days later on a train upstate, in, yes, about two hours, but they were two perfect hours of reading. I love that novel. I re-read it all the time. It would have been worth twice what I would have paid for it if I'd paid for it—a point that has not been lost on me. When the most recent DeLillo came out, I went down to McNally Jackson and bought it—in hardcover—the first day it was on sale.

What's a reading that you've attended that you'll never forget?
The Wave Books reading at The New School in the spring of 2006. Noelle Kocot, Anthony McCann and Joshua Beckman read from their new books, respectively: Poem for the End of Time and Other Poems, Moongarden, and Shake. It was my first introduction to Wave and to each of these writers. I remember just being electrified—amazed and impressed—by the whole thing, the work itself and the beauty of the physical books and the way these poets were creating a world for and around themselves. It looked like everything you could possibly want from an artistic community, and it looked like these people had figured out how to make it happen. My then newish friend, the poet Jeremy Schmall, had an almost identical reaction to mine, and that like-mindedness wound up being the basis for a lot of collaboration and friendship to come. We've been reading each other's work and editing a magazine together for years now.