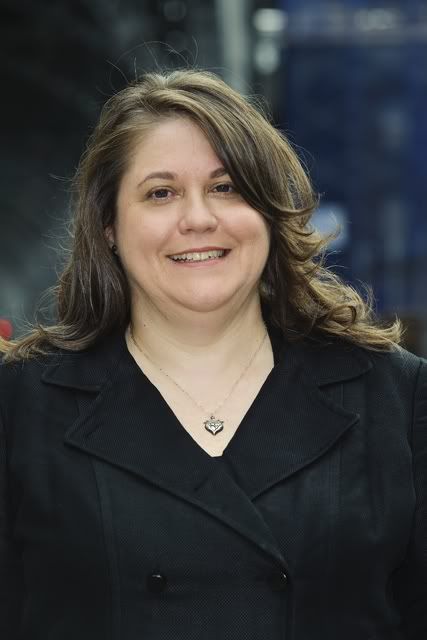 Caryn Rose is one of those awesomely prolific Brooklynites who seem to be living about five different lives. Not only is she a published novelist, she's also a director of product development at Billboard.com, a music writer, a photographer, AND the founder of a popular blog about….the Mets. (It's called Metsgrrl.com, because, as she notes on the site, "I'm a cranky punk rock feminist.") But let's get back to B-Sides and Broken Hearts. The story concerns Lisa, a woman whose life takes a dramatic turn the day Joey Ramone dies. After a fight with her fiance, Lisa finds herself driving from Seattle to LA to reconnect with friends from the punk rock music scene of her youth. She also meets up with an old crush, a sexy musician who may make it tough to go home again.

Caryn's always a delight to chat with, and I knew she'd have some great stories from her numerous events. Read on to learn about her brush with stage fright, the most common question she gets asked, and the poetry reading that marked her triumphant return to NYC.
What's one of the most memorable readings you've given and why?
"The first time I read from B-sides and Broken Hearts, back when it was still called Joey Ramone Is Dead, will always be the most memorable to me. It was the first time I had read it out loud in public, and it was terrifying. My hands were shaking, even in a half-full basement at WORD. My heart was pounding so hard I was having trouble breathing. But it was the best thing I could have done, because it introduced me to some other talented writers, and it gave me the confidence to not give up on the book even if my agent at the time seemed to have forsaken it."

Any particularly intriguing (or conversely, awkward) audience questions that have stuck with you?
"Everyone wants to know if X is true or Y is true or how much of me is in the book. I am immensely flattered that the story rings so true to everyone but just because I've gone to record fairs and can get into arguments about how I want my CD's filed, I am not Lisa Simon. That can be a tough message to give to someone who read and fell in love with the book or the characters."

What's a reading that you've attended that you'll never forget?
"In 1993, I had been living overseas for over six years and came back to the States right before Christmas. It was freezing and I was staying with my parents in Connecticut. I was feeling a combination of being thrilled to be home while also feeling completely discombobulated. A very kind friend let me use their apartment over New Year's so I could escape the family. I went record shopping, had a drink at the Holiday, saw a show out at Maxwell's, and went to  the St. Mark's Poetry Reading the next day. I was amazed it was still going on and almost couldn't believe it when I saw the entry in The Village Voice. To see Jim Carroll and John Giorno and Anne Waldman and all these poets who had been a huge part of my youth was the best possible welcome home I could have asked for."

Thanks so much, Caryn! For more on B-Sides and Broken Hearts, see this BookStalker writeup.