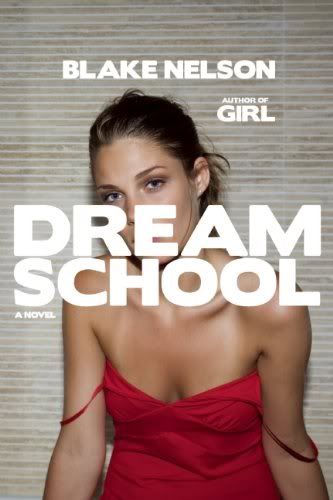 Last night's panel at McNally Jackson brought a rock and roll vibe to the bookstore's basement. Called "(Re)making media: DIY, zines, & punk rock in the digital age," it featured a host of authors, journalists, 'ziners (is that a word?) and musicians. I was happy to be able to go with my favorite librarian, Kate D., who's an archivist at the Whitney (as well as my go-to girl for gifs). [See last paragraph for Kate's archivist view on the digital future of DIY.]

While fascinating and oftentimes hilarious, the event was most noteworthy for the wildly differing views the panelists expressed about how the digital age has affected their creative and personal lives.

Blake Nelson, who published his first book Girl serially in Sassy, remembers sending out the sequel to excited fans by cutting and pasting it into emails. Dream School was recently pubbed via online imprint Figment.com. In his off time, he's "obsessed" with looking at teens' Tumblrs ("You can tell what they're like as people based on what sunsets they post"). But despite the online connex, Blake remains unimpressed, calling the internet largely "for the masses."
Ian Vanek of Japanther, a popular BK band, was the most outright anti-internet—well, anti-mainstream anything, really. (He called McNally Jackson a "graveyard because it's full of people 'who made it'"). He noted that the internet forces people to become constant consumers. And the joy of so-called free expression is false, as sites like Tumblr are owned by large corporations and can shut anyone down at any time. He urges creators to be "invisible" and focus on their crafts—though it makes one wonder how many are doing just this…and toiling away in obscurity.

The youngest panelist, Izzy Schappell-Spillman, was incredibly eloquent for her 16 years. She fielded some pretty intense questions from able host Jacob Lewis (of publisher Figment) such as being asked to explain the cultural values of her generation. Currently in the band Care Bears on Fire and having been in a band since age 8 (!) (a signed band!), Izzy holds a sunnier view of things. She noted that being able to share work with an online community allowed people/kids to feel "less isolated."

My personal opinions aligned most with those of the optimistic but wary Jenna Wortham, who's a tech reporter at the NYT and a co-creator of Girl Crush Zine. Jenna spoke enthusiastically about the more positive aspects of the Internet, such as KickStarter, which helped fund the 'zine. But when asked about oversaturation of content draining peoples' time and energy, she paused, then admitted it could lead to exhaustion.

Author Christopher Bollen (Lightning People) also fell on the more suspicious side, saying disparagingly of Facebook: "Everyone's become their own PR hack."
Per panelist Mikki Halpin (Shut Up Foodies): I misunderstood one of her points, but you can get the full scoop here. (Also curious why I was assumed to be a dude?)
Last but not least, I asked my librarian/archivist friend to offer her own thoughts on the digital future of DIY:  
Kate D.: I really enjoyed the varied discussion from the panel on the good and bad of the democratizing DIY digital age, yet not one person touched upon the transitory nature of born-digital internet media. As an archivist that's what I worry about—I want to preserve your art for future generations. A book is a book is a book, that is something tangible that I can preserve. But a Tumblr? An mp3? This is a huge discussion in my profession so I wanted to hear from those that are active in DIY digital creation—does potential lack of longevity worry them too? While I laughed at Ian's likening the bookstore to a graveyard, at least we know those tangible books will last. That ground-breaking blog? Only time will tell whether or not it will simply vanish into the internet abyss as technology changes. Sure it's cool now, but will your grandkids be able to read it?

Note: Lit blogger Gabrielle Gantz also wrote a great post on the panel, so do check it out!